UCM.ONE launches "The Blue Series" (German: "Die blaue Serie") in November 2019. It starts with "The Room on Top" with Simone Signoret and Laurence Harvey, six-time Oscar nominated and winner of the British Film Academy Award for Best Film in 1959.
The series is dedicated to both outstanding films that have shaped the film world and film gems that have never before been released on DVD or VoD portals in Germany, Austria and Switzerland. The series is recognizable by the blue artwork and the blue Amaray DVD case made especially for this series and is designed for cineasts & collectors.
The Blue Series • 01
The film "Room at theTop" by Jack Clayton, brilliantly cast with Simone Signoret and Laurence Harvey, nominated six times for the "Oscar" and twice awarded (Best Actress in a Leading Role for Simone Signoret and Best Adapted Screenplay) and winner of the British Film Academy Award for Best British Film of 1958. Simone Signoret also received the award for Best Actress in Cannes.
Synopsis:
25-year-old ambitious Joe Lampton (Laurence Harvey) wants to go up: As employee of the tax office in the small town of Warnley in the north of England, he has realised that this cannot be achieved through hard work and competence in his profession alone. So in his spare time he joins the theatre group, in which Susan Brown (Heather Sears), the daughter of a wealthy industrial magnate, also plays. She falls in love with Joe, as he had planned, but her parents are against the connection. And Joe's feelings thwart the plan of his ascent through marriage, because he falls in love with Alice (Simone Signoret), who is ten years his senior and unhappily married…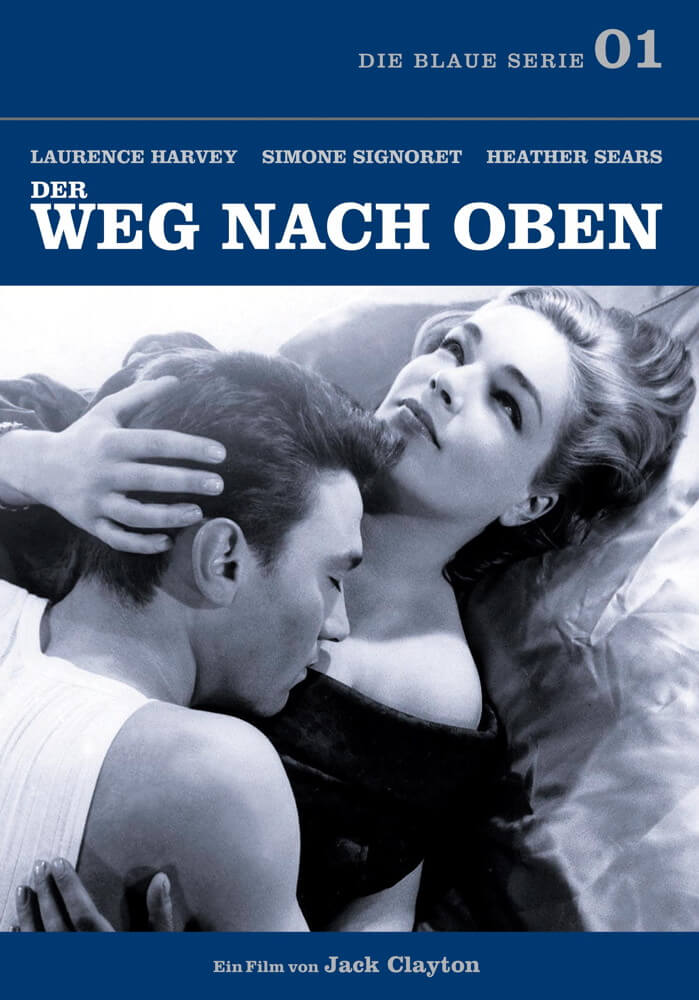 Comments about the movie:
"The movie itself is great, full of good acting and masterful directing. The shot that announces the beginning of the new wave and doesn't really fit into the movement itself." (Cineoutsider)
"'The Way Up' was a milestone for the British film industry. At that time the love scenes belonged to 'the hottest thing that ever left British film studios'" (Cinema-Filmlexikon).
"…excellently played and atmospherically densely staged." (Encyclopedia of International Film)