"A Night in Casablanca" (German: "Eine Nacht in Casablanca") is the twelfth joint film of the legendary Marx Brothers and a parody of the film "Casablanca" with Humphrey Bogart and Ingrid Bergman from 1942. UCM.ONE releases this film with "The Marx Bros. – A Night in Casablanca" on the label M-Square Classics for the first time in HD scanned and restored as a limited media book with DVD and Blu-Ray together with a 16-page booklet in Germany, Austria and Switzerland.
Synopsis:
Morocco during the Second World War: The German army ("Wehrmacht") has deposited stolen valuable art objects in a secret mezzanine of a hotel. Count Pfefferman alias Heinrich Stubel, his assistant Kurt and his lover Beatrice Rheiner are now trying to get them out of the country. To this end, they murder the managers of the hotel in the hope that Count Pfefferman will be appointed manager.
Unfortunately, Ronald Hühnerpuster (Groucho Marx) is hired as manager. Now they also try to get him out of the way. But finally, together with Rusty (Harpo Marx) and Corbaccio (Chico Marx), he finds out where the works of art are hidden in the hotel. They now do everything they can to prevent them from getting out of the country and the villains from getting behind bars.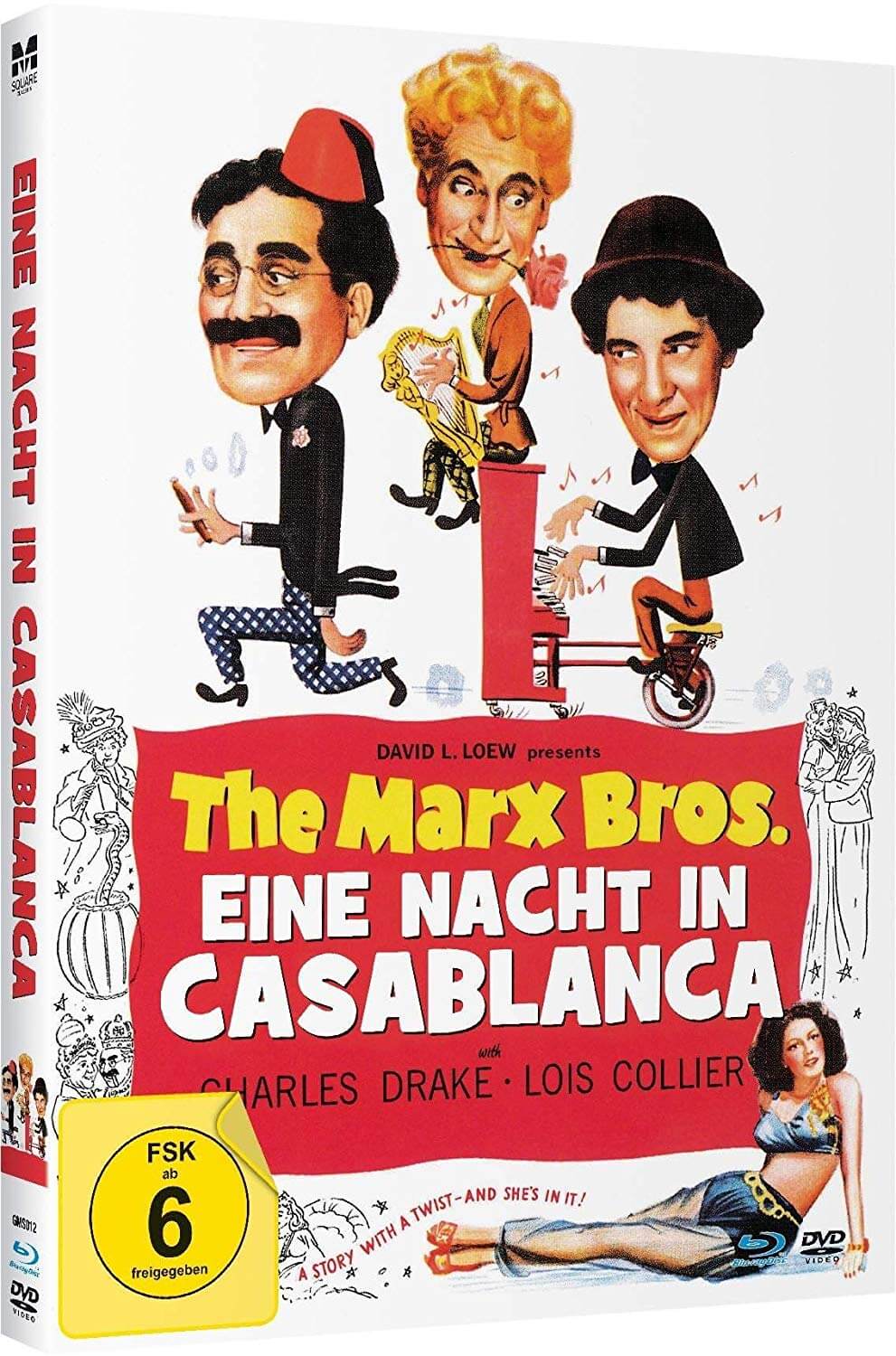 Equipment and technical data of the media book
Movie in the original version, 16-page booklet | Picture format: DVD full screen 1.37:1 (original format); Blu-Ray WS 1.37:1 / 1080p 23,976 (original format) | Total runtime Blu-Ray 85 Min, DVD 81 Min | Sound format DVD: German DD 2.0 mono, English DD 2.0 mono; Blu-Ray: German DTS- HD Master Audio 2.0 mono, English DTS- HD Master Audio 2.0 mono | FSK 6
A Night in Casablanca | Trailer (German)