UCM.ONE releases on the film label Darling Berlin the drama "Lost in the Living" by Robert Manson. The movie tells the storyabout a musician who wants to make a breakthrough in Berlin with his band, but unfortunately everything turns out completely different… The actors* are among others: Aylin Tezel (known from Tatort), Tadhg Murphy (known from Vikings) and Liam Carney (known from Braveheart).
The film begins with Oisín unpacking his things in a hostel and finding an envelope with money from his father in his pocket. Later, at their concert, everything seems to go well at first – the boys are in a good mood, the audience goes along – when Oisín suddenly freaks out in the middle of the stage.
The anger at his father, who has left the family, and the pain over the death of his mother overwhelm him and he throws himself alone into the Berlin nightlife. When he meets the young, pretty Berlin girl Sabine and she shows him places far away from the party and tourist hotspots, he seems to find a foothold with her. But Oisín lets himself drift further and further; his Berlin trip becomes a tour de force. "Lost in the Living" is a homage to the place of longing, Berlin, where one can drift wonderfully, but also lose oneself quickly.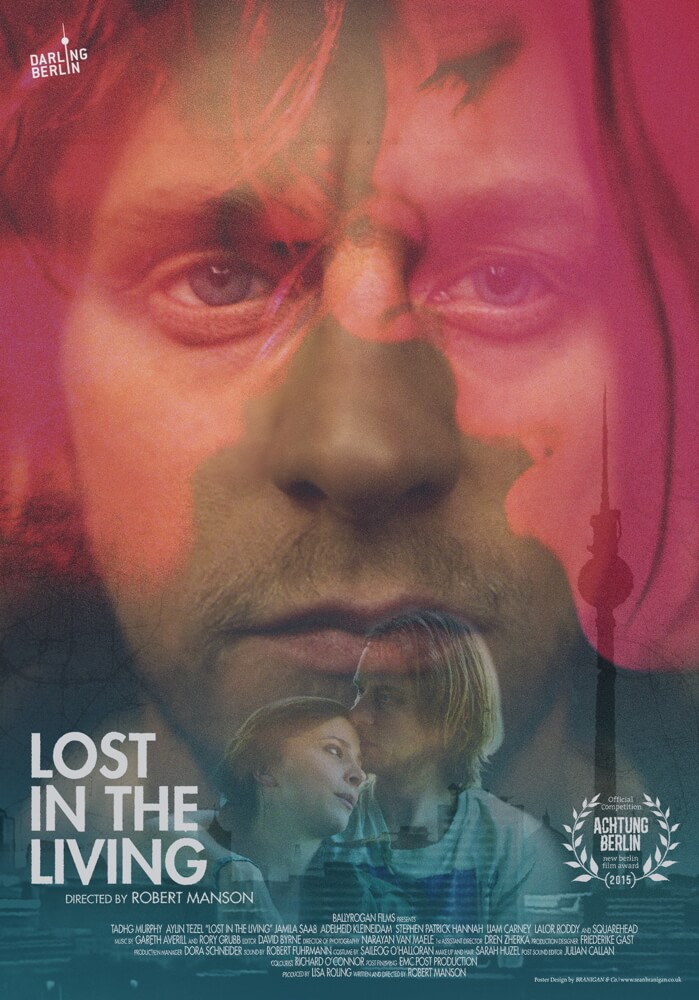 Press comments:
With "Lost in the Living" by director Robert Manson we can look forward to a new beloved Darling Berlin in our cinemas. A wild and tender Berlin trip through the nightlife. "(Arthouse Cinema)
"The film's strong points include the two leading actors Tadhg Murphy and Aylin Tezel, who have an impact even when they have little to do or talk about." Narayan Van Maele's camera takes pictures away from well-known homages to Berlin as a place of longing; she also translates well the drifting, the light, indecisive, but openness-driven movement into the visual, and she has a sense of good observation and small, valid moments." (Filmdienst)
"But those who would like to let go of themselves to let themselves drift in a river of impressions, find here a nice break from everyday life." (Movie reviews)