Three Darling Berlin films will be shown this week in three different Berlin pop-up cinemas. On Wednesday 24 August, after sunset, the documentary "Searching Eva" by Pia Hellenthal will start at the Feldkino on Tempelhofer Feld. On Thursday 25 August at 8 p.m. there will be a screening of "Heiko's World" by Dominik Galizia in a specially built open-air cinema on Leopoldplatz in Wedding. Please note: Seats are limited to 100 spectators with free admission.
Finally, on Friday 26 August at 9 p.m., the award-winning feature film "Ich Ich Ich" by Zora Rux will be screened at the Kiezkino Charlottenburg as part of an open-air event at the achtung berlin festival. The film will be released in autumn 2022 by UCM.ONE on the Darling Berlin label.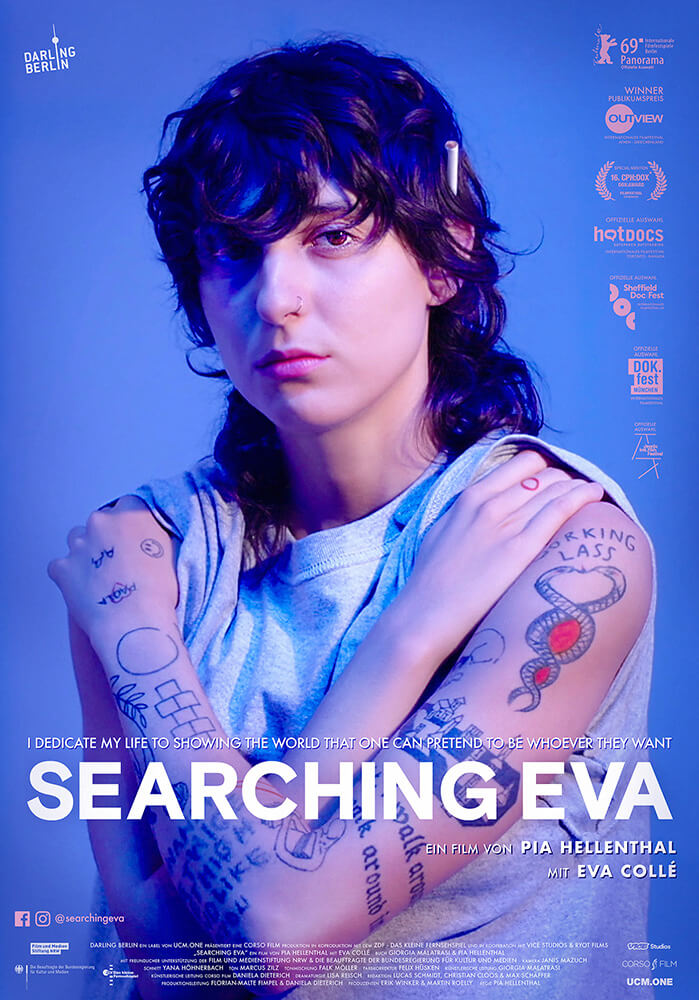 Searching Eva by Pia Hellenthal (2019)
Eva, 25, an Italian living in Berlin, leads a public life, with all the consequences. At 14, she gave herself a new name, declared privacy an outdated concept and published her first diary entry online. Since then, she shares her life with the whole world, down to the most intimate detail. She lives multiple identities: cat owner, poet, sex worker, bisexual, ex-junkie, feminist, anarchist, model, star sign VirgoCOPY00 She came of age on the internet, where she turned her search for self into a public spectacle that raises the question of what exactly "a woman is supposed to be". Her reality is virtual and life is "something like an indie film" – a subjective construction under her own direction. We jump from Berlin to her old homeland Italy, from Mexico to Athens, as if we were clicking through her Instagram profile. Eva walks in fashion shows in Paris, gets massages from sugar daddies in bourgeois hotels, takes drugs, blow-dries her girlfriend's hair, plays with her cat. Instead of following a narrative thread, the film revolves around themes that Eva's life raises on its own: Questions about sexuality, gender, the concept of work and that of a fixed identity. In her blog posts, traces of thoughts and fragments of ideas, Eva demonstrates her acumen and disarming honesty. "Searching Eva" is a film beyond all conventions, challenging in its subject matter and visually and aesthetically fascinating. One dives into Eva's worlds and comes out changed.
Heiko's World by Dominik Galizia (2021)
Heiko's mother Belinda suffers from keratoconus, a rare change in the cornea. She is gradually losing her sight and could soon go completely blind if she is not helped. Belinda's eyesight could be restored with the cornea of a deceased donor – but such a transplant costs a lot of money, which the health insurance does not cover.
For Heiko, this is the beginning of an odyssey through the Berlin bar world: in order to raise the money for his mother's operation, he faces the best dart players in town, at first reluctantly, but then with growing ambition, euro for euro. They, however, pursue completely different plans and thus pull Heiko into a spiral of madness that he could not have imagined before.
"Heiko's World" is a wacky, loving ode to – and odyssey through – Berlin's corner bars with their very own fauna of original characters, full of unexpected twists and turns, and with a main character who grows on us on his beer-soaked hero's journey.
Searching Eva | Trailer (German) ᴴᴰ
Heiko's World | Trailer (German) ᴴᴰ