The cult film "The Brain" (German: "Das Gehirn") is the best known and for the time being the last film of the science fiction and horror film director Ed Hunt. The crude monster film is now available for the first time in HD and restored as a limited media book with Blu-Ray and DVD together with a 16-page booklet on the label M-Square Classics in Germany, Austria and Switzerland. At the same time, the film will also be available on VoD portals.
The film begins with blood flowing out of a plush teddy, a monster claw grabbing out of the TV and grabbing arms growing out of the walls. Is all this just hallucination or is it reality? Since Dr. Blake (David Gale) came to Meadowvale-Country, the number of suicides and mysterious accidents has increased alarmingly. His TV show "Independent Thinking" has the highest ratings in the region, he is becoming more powerful and influential! But the boy Jim Majelewski discovers the incredible secret of the doctor. Behind the facade of the serious scientist hides an alien monster! Can the invasion Dr. Blake is preparing still be stopped?
The film "The Brain" by Ed Hunt enjoys absolute cult status among fans! An absolute "must" for all fans of movies like "Sie Leben, die Dämonischen" or "Nightmare on Elm Street".
About the director:
Already as a teenager Ed Hunt, born and raised in Los Angeles, wanted to become a film director and started writing scripts. He enrolled in chemistry at the University of California, but later changed to film studies. After graduating, he got his first taste of set air and worked as a set builder and sound assistant in various productions, but also took on the editing and direction of smaller documentaries.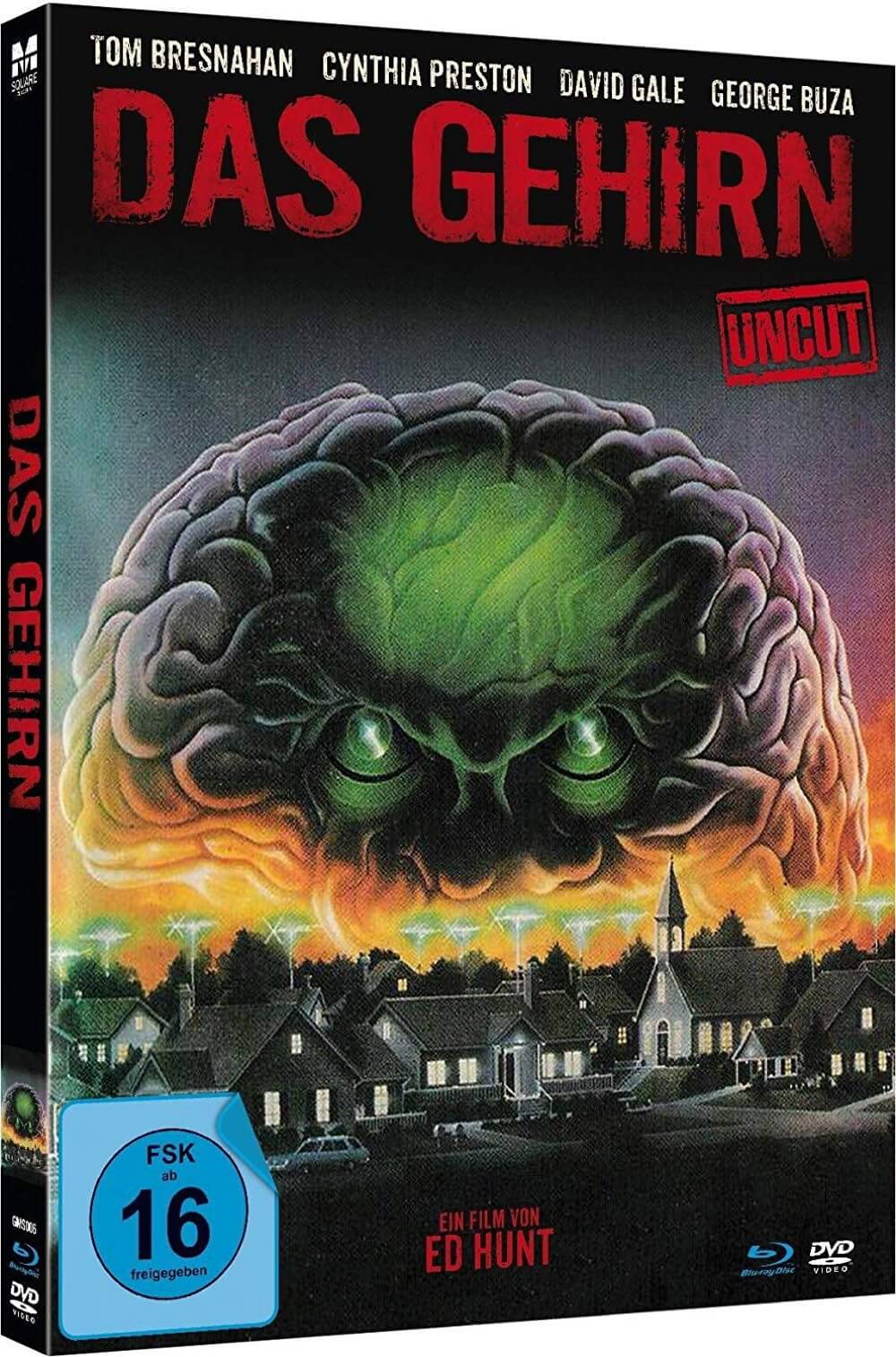 The erotic strip "Corrupted" (1973) made his feature film debut and the first of only 13 films between 1973 and 2014. One year later followed with "Diary of a Sinner" another erotic film. Both movies were shot with a budget of only $ 50.000. The Sci-Fi-Trash movie "Point of No Return" (1976) was followed by his most expensive movie "Invasion of Space Ships" (1977) with one million dollars. Two years later he celebrated his greatest success with his virus thriller "Plague". In 1979 he won two prizes at the annual Sitges International Film Festival: "Best Film" and "Best Screenplay". After he took over the script and direction for the documentary "UFOs are real" (1979), he wrote "Angst" (1981), "Kings of the Streets" (1986) and his penultimate movie, the sci-fi trash horror "The Brain" (1988). After a short excursion into the world of video games ("The Jungle Book: The New Adventurues of Mowgli", 1995) ending with "Halloween Hell" he released his last movie so far in 2014.
Equipment and technical data of the mediabook
Film in original uncut version, 16-page booklet | Picture format: Letterbox, DVD WS 1.85:1 anamorphic; Blu-Ray WS 1.85:1 &1080p 23,976 | Total runtime Blu-Ray 88 Min, DVD 92 Min | Sound format: German DD 2.0, English DD 2.0 | FSK 16

"The Brain is a barely camouflaged media satire in horror film form with slight references to the themes of The Demonic and Brain Eaters." (schlombies-filmbesprechungen.blogspot.com)
"So if you're into quirky monster entertainment, you'll get a nice movie the way you live." (tofunerdpunk.blogspot.com)
"The brain is a wonderful horror-shlocker who also acts with his index finger in the direction of mass hypnosis and influence by the TV medium." (zultfilm.blogspot.com)
"Solid horror movie with David Gale as an evil scientist, because you could already admire him in From Beyond or Re- Animator in such roles, and a man-eating giant brain."(reviews.ch.vu)
"A truly entertaining Horror B movie with borrowings from Nightmare on Elm Street." (badmovies.org)
"A wonderfully entertaining horror bullshit." (moriareviews.com)
"Director Hunt's work is based on the monster movies of the '50s, garnished with effects from the '80s." (blu-ray.com)
"The brain brings a lot of tasteless humor and becomes a fun retro trash highlight at every movie party with a few good friends and lots of beer." (theggtmc.blogspot.com)
"A fun trash game with a lot of brains (6.5 points)." (filmtipps.at)