After "Dead Woman from Beverly Hills" (German title: Die Tote von Beverly Hills"), UCM.ONE and moviemax are releasing the second film "Serenade for Two Spies" (German title: "Serenade für zwei Spione") by Germany's greatest show director Michael Pfleghar ("Lieben Sie Show", "Wünsch Dir was", "Klimbim", "Zwei himmlische Töchter" and others) in digitally high-quality restored HD version as DVD. "Serenade for Two Spies" is unfiltered love for larger-than-life cinema escapism, the likes of which German cinema has perhaps never seen again. Pure cinematic sex appeal with the courage to be silly but a strict rejection of the rag.
"Serenade for Two Spies" (German title: Serenade für zwei Spione") is a mischievous kneeling before genre cinema and its intellectually relaxed reception, a kneeling before a cinema as has never been and tragically never will be in Germany, carried out with such fervour that it almost single-handedly compensates for this loss. What would our hero John Krim alias 006 say? "I've always known that I could do better than these Yanks. I just didn't have the chance to prove it!"
Following the 2019 release of "Dead Woman from Beverly Hills", Michael Pfleghar's second full-length feature film directing project is the next film in the "Michael Pfleghar Film Edition".
Digitally resampled and completely restored, the film "Serenade for Two Spies" starring Hellmut Lange, Barbara Lass and Heidelinde Weis is now available everywhere on DVD, with only the first edition being delivered in a slipcase and with a 12-page reprint of the German magazine "illustrierten Filmbühne".
Among the absurd highlights of the strip are a rock 'n' roll ballet and a bizarre shoot-out under water. "Serenade for Two Spies" was filmed in Spain as well as in Los Angeles, Las Vegas and San Francisco.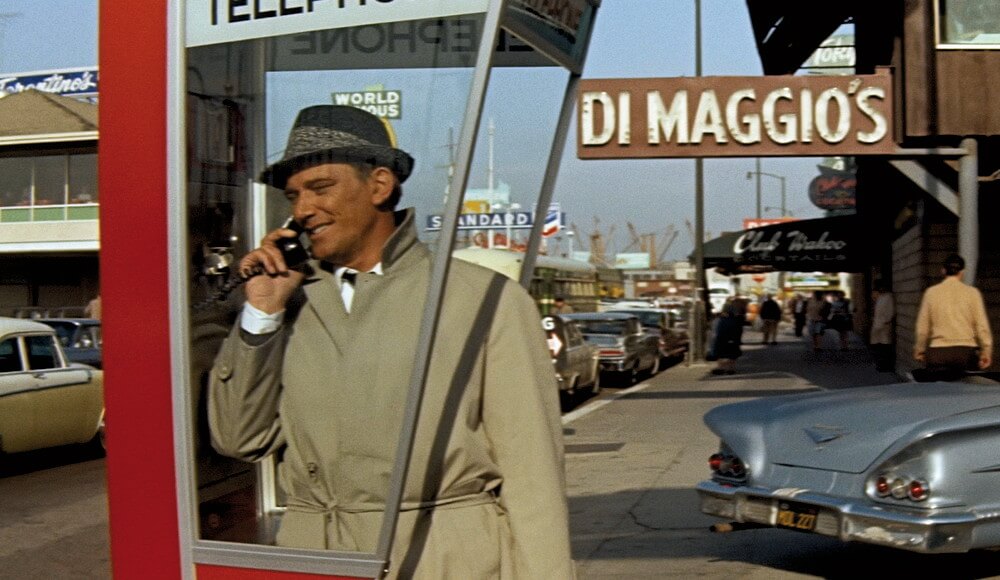 Synopsis
An international gang of gun dealers in the USA has stolen the prototype of a laser rifle from a German laboratory. The FBI agent Cormoran is being sent to recover the state-of-the-art and highly effective weapon. But there are some indications that he has defected to the enemy. Since agent 007 is currently on another mission, the chief of intelligence has to fall back on his second best man, the previous number 006. And so the German secret agent John Krim is given the assignment to get the rifle back, find evidence of Cormoran's treachery and finally eliminate the colleague. Krim's journey takes him across the ocean, and there he experiences incredible adventures in San Francisco, Los Angeles and Las Vegas. Two women get in his way, and Krim can't be sure whether he can trust them or whether they too are working for the other side.
Comments on the film
"Michael Pfleghar does not even try to conceal what he is copying. 007 is mentioned by name several times – that there is not another Connery portrait on the corner table is all. One of the pretty companions is called Goldfeather and in San Francisco you see a Bond Hotel. The Goldfinger theme is played along with it, so that Aunt Erna can still hear it in the last series of movies.(filmtipps.at)
"This is it, the only true spy movie persiflage, if ever there was a truly witty, trenchant spy movie persiflage." (eskalierende-traeume.de)
"Pfleghar investigates ironically and self-reflectively down to the last atom the mysteries of the Supergirls, Agents and Playboys". (Hans Schifferle, müncher-stadtmuseum.de)
"Director Pfleghar uses every possible opportunity to demonstrate that he intended his second feature film to be a wacky persiflage on the James Bond films. So he hardly leaves out a gimmick or even the most absurd idea". (wikizero.com)