Swedish Black 'n' Rollers The Vice are thrilled to announce the release of their highly anticipated new album "Dead Canary Run". The album will be released via Noble Demon on January 19 and will mark the first time in The Vice's history that their music will be available on vinyl.
Building upon the foundations set by their previous work – the band's unique blend of filthy rock, blackened metal, and death-ridden pop – "Dead Canary Run" takes listeners down a deranged path that The Vice has masterfully crafted over the years. With an eclectic mix of genres thriving like never before, the album promises to captivate fans with its raw energy and infectious melodies. While some elements may feel familiar, there are numerous new levels that The Vice has reached with this upcoming offering. Collaborating with an old partner in crime, Joel Öhman, who added his piano skills to a couple of songs, The Vice emerged from studio "Underjord" late this Summer with an album they couldn't be more proud of.
"Dead Canary Run" serves as a testament to the band's growth since their recent full-length album "White Teeth Rebellion", showcasing their passion and determination, with their amps cranked up to 11.
In preparation for the album release, The Vice is currently in full rehearsal-mode, gearing up for an exciting lineup of live performances in 2024. While maintaining their signature style, the upcoming chapter of the band promises to be both familiar and completely different – just fucking better.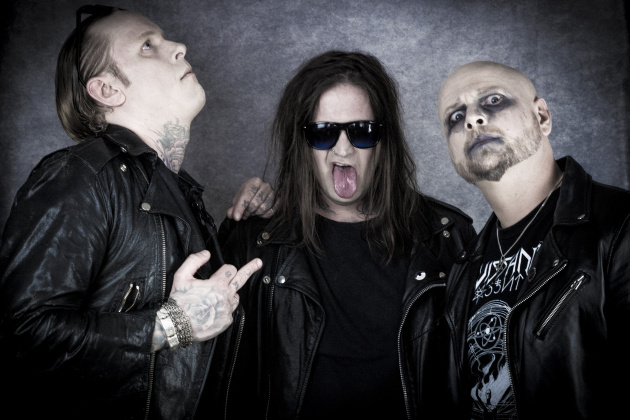 With the track "Grant Me Your Peace", The Vice have unleashed the first single today.
The band comments: "The release of our third album 'Dead Canary Run' is closing in and as a first peek under its skirt we present 'Grant me your peace'. And what better way to introduce a song about obliterating the past?! Drenched in the blood and sweat we've put into this record it takes our mean blend of blackened metal, sinister pop and ferocious rock n roll to new territories once again.
So enjoy and keep your eyes out for the full album in a couple of months."
"Dead Canary Run" will be coming out on January 19 via Noble Demon and is now available for pre-order.
The Vice - Grant Me Your Peace (Official Music Video)