Although the film "The Torture Chamber of Dr. Sadism" (German title: "Die Schlangengrube und das Pendel") was released in 1967, the soundtrack will now be available for the first time as part of the complex new 4K scanning and digitization of the film. The musical work for a film like "The Torture Chamber of Dr. Sadism", especially when it is backed by a big name like Peter Thomas – the wonderfully brilliant film composer, conductor and arranger – is something very special! To release this soundrack is both an honor and an obligation.
Peter Thomas immediately said: "I'll take part. But I miss pieces of music from back then for the soundtrack".
Even with the rights holder, Schacht Musikverlag, the music was only incomplete. Matthias Künnecke from Universal Music then gave the advice to try the international soundtrack on tapes. In this case, these are magnetic sound perfos 17.5, as they were used at the time on the editing table and in the film mix.
Only: where to look? In which cellars and archives? After a long research, Walter Potganski from moviemax, to whom we all have to thank that this soundtrack even exists, finally found what he was looking for in a large archive, in a secret location where thousands of film reels and magnetic tapes are stored. Unfortunately, that was not the end of it. The condition of the material was pathetic. Over a hundred splices had to be patched, sorted and checked. This was carried out by the music specialist and sound engineer Hans-Joachim Dethlof.
Hans-Joachim Dethlof later took over the mastering of the audio material. The result is more than worth hearing! Much to the regret of everyone involved in the project, Peter Thomas could no longer experience the result because he died only a few hours before the audio sample. His heart has stopped beating.
This soundtrack is reminiscent of the great artist Peter Thomas. So let's put the record on for him, play it very loud – he'll certainly listen and watch, because he loved vinyl.
Peter Thomas (* December 01, 1925 Wroclaw / Poland, ✝︎ May 17, 2020 Lugano / Switzerland)
Peter Thomas grew up in Berlin. In addition to studying classical music, he was mainly influenced by his time as a pianist in numerous clubs in the four-sector city, where he got to know and appreciate the different musical tastes of the occupying powers. He came to television via radio at the end of the 1950s and shortly afterwards to film and quickly developed into one of the most successful and busiest composers in German-speaking countries.
Many of the now legendary TV and film soundtracks such as "Raumpatrouille – The Fantastic Adventures of the Orion Spaceship" come from his pen. In addition, numerous music albums and advertising music. He remained active into old age.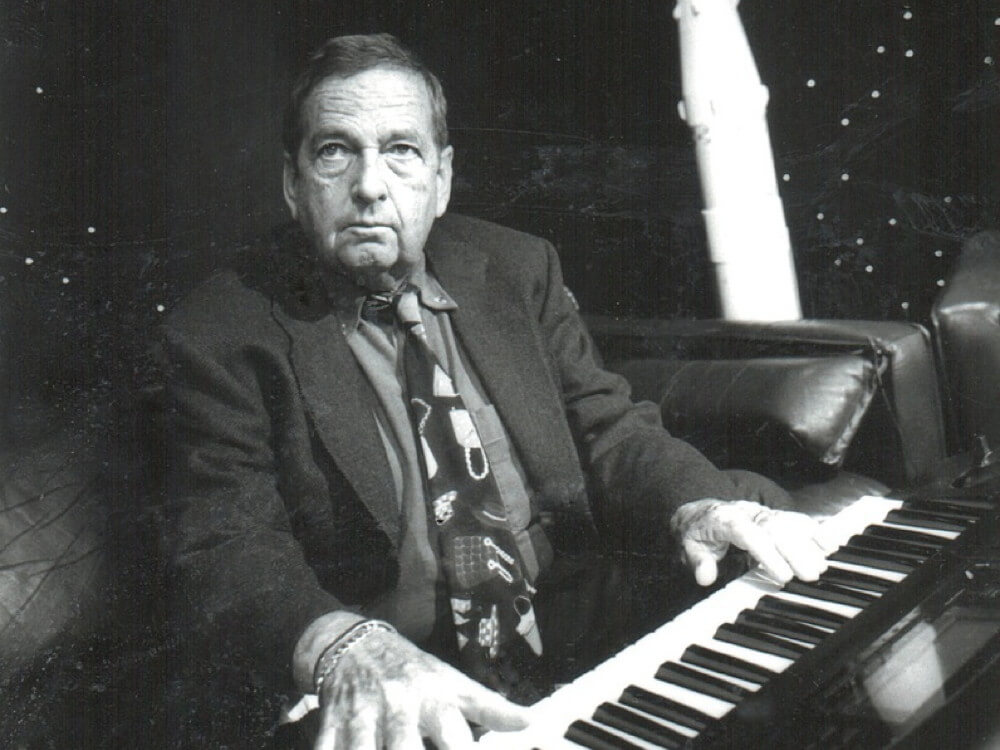 The film "The Torture Chamber of Dr. Sadism"
The horror classic "The Torture Chamber of Dr. Sadism"  by Harald Reinl ("Dr. Mabuse", "Winnetou"), based on a short story by Edgar Allan Poe, was released in 1967. The film begins in 1801, in which Count Regula (Christopher Lee) is quartered for the murder of twelve virgins. Many years later the lawyer Roger Mont-Elise (Lex Barker) and the attractive baroness Lilian von Brabant (Karin Dor) received an invitation to the infamous Sander Valley. The drive through ghostly forests takes you directly into the ruins of Count Regula's castle and his torture chamber. Nobody can suspect that the count's resurrection is being prepared here, but for this he still needs the blood of a thirteenth virgin …
Soundtrack (Limitierte Vinylauflage)
A-side:


1. Die Schlangengrube und das Pendel
2. Der Moritatensänger
3. Mysteriöse Einladung
4. Karfreitagprozession
5. Kutschfahrt in Sandertal
6. Ungewöhnliche Reisegesellschaft
7. Der Leichenwald
8. Erinnerungen

B-side:


1. Schloss Anomie
2. Liebende in Bedrängnis
3. Graf Regula
4. In den Katakomben)
5. Eigenartiger Geistlicher
6. Das Pendel des Todes
7. Blut von dreizehn Jungfrauen
8. Flucht aus dem Schloss (Finale)
The LP, which is limited to 500 copies, appears on red vinyl (180g), is machine numbered with a sticker and contains a printed inner sleeve. The album will also be available digitally worldwide.
Soundtrack (digital release)
1. Die Schlangengrube und das Pendel
2. Der Moritatensänger
3. Unheimliche Einladung
4. Karfreitagsprozession
5. Kutschfahrt ins Sandertal
6. Ungewöhnliche Reisegesellschaft
7. Der Leichenwald
8. Erinnerungen
9. Schloss Andomei
10. Liebende in Bedrängnis
11. Graf Regula
12. Unaufhörlich läuft die Sanduhr
13. In den Katakomben
14. Eigenartiger Geistlicher
15. Das Pendel des Todes
16. Das Blut von 13 Jungfrauen
17. Flucht aus dem Schloss (Finale)
18. Die Schlangengrube und das Pendel (Suite)
Der Soundtrack wird von UCM.ONE auf dem Label M-Square in Zusammenarbeit mit Schacht Musikverlag erstmalig weltweit veröffentlicht. Ein großer Dank geht zudem an Walter Potganski, der als Quellmaterial die alten Original Bänder wieder orten konnte und so erst eine Rekonstruieren der benutzen Musiktitel möglich machte.
The Torture Chamber of Dr. Sadism (1967) | Teaser 2020 ᴴᴰ