The great French actress Simone Signoret was born in Wiesbaden on 25 March 1921, the eldest of three children. Her father André Kaminker, a linguist and translator, was a French officer of Polish-Jewish descent and worked for the French occupation forces in the Rhineland at the time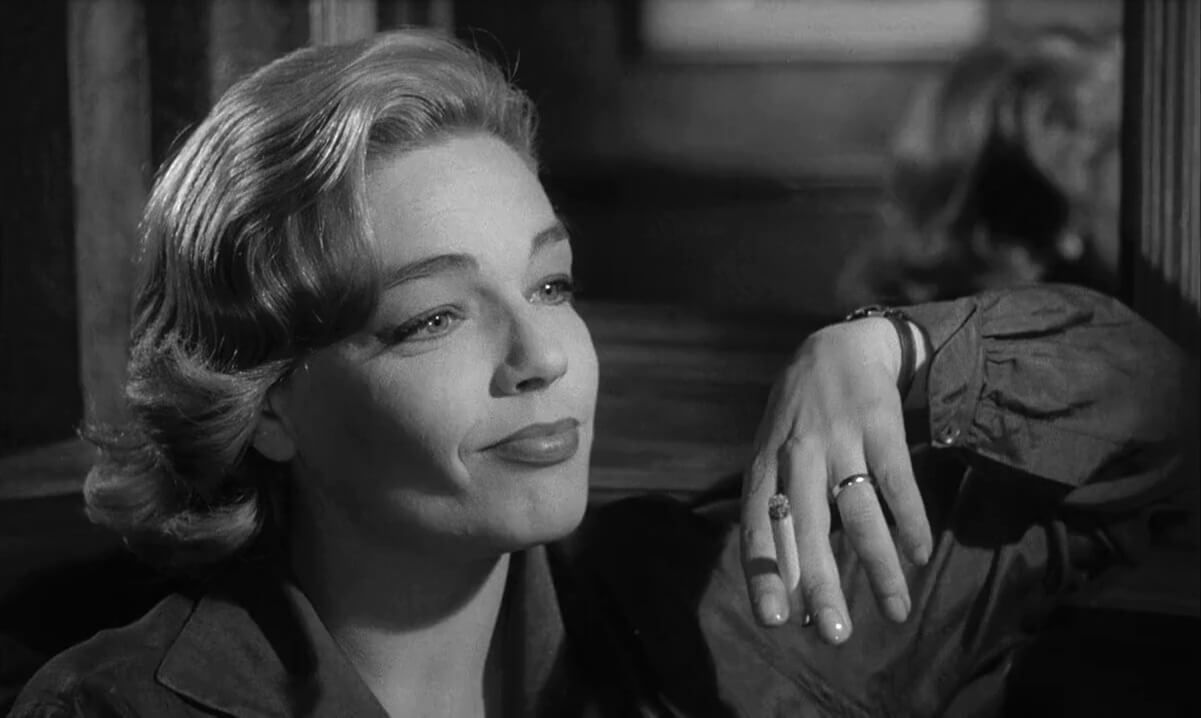 Simone Signoret grew up in Paris in an intellectual atmosphere, studied English and became a teacher. On the side, she worked as a writer for the French newspaper Les Nouveaux Temps.
During the German occupation of France, Simone Signoret belonged to a group of writers and actors who met at the Café de Flore in Saint-Germain-des-Prés. It was then that she became interested in acting and was encouraged by her friends to start an acting career. In 1942, she began acting in supporting roles and was able to earn enough money to support her mother and siblings financially while her father was in exile in Britain.
Simone Signoret took her mother's surname at the time because she wanted to hide her Jewish roots.
She was often offered roles as a mistress or prostitute because of her appearance and personality. Her acting got great attention in "La Ronde" by Max Ophüls, a movie that was temporarily banned in New York because it was considered immoral.
Her portrayal of a prostitute in Jacques Becker's "Casque D'Or", for which she received the BAFTA for Best Actress, also caused a sensation.
Simone Signoret played in some of the most famous French movies in the 1950's, among them Marcel Carnés "Thérèse Raquin, Henri-Georges Clouzot's "Les Diaboliques" and, together with her partner Yves Montand, Rouleau's "The Crucible", based on Arthur Miller's play and with a script by Jean-Paul Sartre.
In 1958, Simone Signoret travelled to England to shoot "Room at the Top" (German title: "Der Weg von oben"). The film was released by UCM.ONE in 2019 as the first film in the Blue Series. She won several awards for the film, including the Academy Award for Best Actress and the Best Actress Award at the Cannes International Film Festival. She was the first French actress to win an Oscar and the first woman to receive the award for her performance in a foreign film. Simone Signoret then received offers to work in Hollywood but turned them down and initially continued to work in France and England. Among other films she played alongside Laurence Olivier in "Terms of Trial". In 1965 she returned to the United States to shoot "Ship of Fools" for which she received another Oscar nomination, and played in several Hollywood movies before returning to France in 1969.
In addition to her acting career, Simone Signoret was very involved in politics throughout her life,as was her husband Yves Montand, and campaigned, among others things, for a ban on nuclear weapons, against the Algerian War and the Franco regime in Spain. Signoret died of pancreatic cancer in 1985 at the age of 64 and was buried in the Père-Lachaise cemetery.
Original Trailer from 1959 (English)